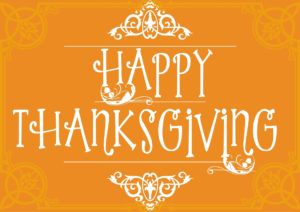 Thanksgiving says it in the name, a time to give thanks.  Liberally praise God – Psalm 103 says 'Bless the Lord oh my soul, all that is within me'. 
First we can thank God for His unchanging nature that's seen us through so much this year. As the Psalmist lists in Psalm 103, God's attributes: fair, just, merciful, gracious, and slow to anger.  We can proclaim these same blessings over our life here in 2020:
Psalm 103:2-5
2 Bless the Lord, O my soul, and forget not all his benefits:

3 Who forgives all thine iniquities; who heals all thy diseases;

4 Who redeems thy life from destruction; who crowns thee with

lovingkindness and tender mercies;

5 Who satisfies thy mouth with good things; so that thy youth is renewed like

the eagles.
What benefits come to mind? How has God healed you or saved you?  Have you been renewed?  Let's see if we can apply scripture and see God's silver lining of hope to this year. 
Thankful for:
growth of church attendance, thanks to online

greater value of church attendance

more time for personal devotions

God's Word that strengthened us spiritually and emotionally

more family time; family dinner

people were appreciated and positions valued, from frontline workers,

healthcare, teachers, to homeschool moms

unique vacations, just a blessing to get away and see and do something different

creative celebrations, drive by parties

technology like zoom that helped us stay connected

small gatherings

increase of 'thinking of you' cards in the mail

mask sewers

better work – life balance as many worked from home, creating possible

permanent arrangements

more spiritual, physical, financial, academic resources made more economically

available

greater compassion, financial or otherwise

priorities re-evaluated. Many started new jobs and discovered different passions.

heightened awareness and involvement in the religious, social, political issues

God showed what He can do for us and through us-teaching our kids and helping

our neighbors

jobs and stimulus checks

health and strength for resting and healing

now able to visit our loved ones after being isolated so long

time to work on projects around the house

unexpected but good changes

everyday blessings that we don't often praise the Lord for because we were too busy
One of my favorite Thanksgiving traditions is going around the dinner table listing blessings. Maybe this short list will get your brain and heart going of all the ways God is good all the time and all the time God is good!
For more on Psalm 103, listen to Rebekah's Life's Silver Lining podcast, episode 'Bless the Lord'.
From the HOPE family to yours, may blessings be yours this Thanksgiving!
'The mercy of the Lord is from everlasting to everlasting upon them that fear him, and his righteousness unto children's children'
Psalm 103:17
Blog written by Rebekah Wright