Matthew 7:12 Treat others as you want to be treated.
Luke 10:27b Love your neighbor as yourself.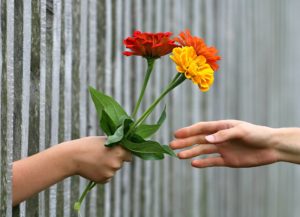 February is the month of love and also World Kindness Day, February 17th. What better way to show love, than kindness? Random Acts of Kindness has become quite the movement, happening everyday, but having a day that focuses on it, reminds us to be intentionally living with kindness and love.
In fact, later in the year, our state celebrates one of our own whose kindness and love was renowned and was actually an ordained minister — Mister Fred Rogers. On May 23, the 143rd day of the year, is dubbed 'A Day of Kindness in Pennsylvania". 1-4-3 reflecting the number of letters in Roger's favorite phrase, "I love you."
And we do feel great love when we're the recipient of kindness! What a thrilling Christian responsibility we have to make someone else feel that important and loved!
One of my favorite things to highlight on radio or social media-is people's random acts of kindness. It's one of the ways that we can show others God's love. Kindness is what heals wounds and brings people together, making the world a more neighborly place. For all those reasons, Jesus gave us the examples of eating with sinners, healing the sick, forgiving those who hurt him, and preaching about the Golden Rule, the Good Samaritan and the Gospel as a whole.
Kindness is always the right thing to do, always welcomed, always needed, makes everyone happy-even the saddest. It can be free. It's worth more than money, and the best part, we all can do it.
Make a note to do nice things throughout the day. Are you looking for ideas? I've collected a few that will get you started.
-Pay for the coffee or meal of the person in front of you in line.
-Leave a kind note for someone. No explanation needed.
-Share words of encouragement. You never know who might need them. Leave positive messages on sticky notes around the office, or on the train, or on napkins at restaurants.
-Put your skills to work for someone in need. For example, offer to create a résumé for someone seeking a new job.
-Drop off a load of groceries at the local food pantry.
-Run errands for someone who can't get out of the house.
-Bake goodies to give away.
-Mail a "thinking of you" card to someone you've not talked to in a while.
-Order a bouquet of flowers to be delivered to anyone in the hospital. That means, call the florist and tell them to pick a hospital or nursing home and deliver flowers to the person the front desk thinks needs it the most. It could be a sick child or an elderly person with no family.
-Send a thank you note to the local fire department, police department or any military personnel.
-Compliment a stranger.
-Treat a homeless person to lunch.
-Just smile 🙂
I like making someone's day, simply because it makes my day to see their smile and know I made a difference.
God showed the greatest love and act of kindness by giving us His Son, Jesus, to cover our sin debt – that we could never pay, nor 'pay it back' to Him. Salvation is a free gift for us to receive, but it dearly cost our Heavenly Father. In the spirit of the undeserved love and kindness shown to us, may we liberally 'pay it forward'!
Living in His love, Spreading His Kindness
Rebekah and the Hope team
Blog written by Rebekah Wright