A hot mug of mulled cider goes well with this crisp autumn air!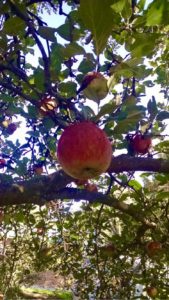 Love my family's annual fall tradition of getting together for cider and doughnut making.  Years ago Grandpa Gross planted apple trees.  Now four generations gather to enjoy the fruit of the land and family time, something that is so life grounding, like a tree, a shelter they'll always need. 
Planting a tree is such a timeless voicing of hope.   It's stepping into a future place you can't see, and the worth of that step isn't seen immediately but through generations.  Planting faith in our children's hearts grows into a shelter they'll always need. 
Psalm 1:1-3 says, "Blessed is the man that walks not in the counsel of the ungodly, nor stands in the way of sinners, nor sits in the seat of the scornful.  But his delight is in the law of the Lord; and in his law doth he meditate day and night.  And he shall be like a tree planted by the rivers of water, that brings forth his fruit in his season; his leaf also shall not wither; and whatsoever he does shall prosper." (KJV)
I believe our nation's future is one that more than ever before will need, demand, of us and our children to be strong Jesus followers.   Whatever time we've been given – plant, water, pray, read scripture, sing hymns, live for Jesus, and tell His Truth.  It's a sheltering tree of faith and hope we, our children and grandchildren, will always need. 
Blog Written by Rebekah Wright