"Good things come to those who wait" is what my plant whispered to me. No, I'm joking, but I am learning that.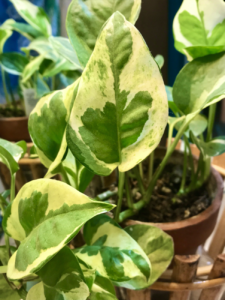 I love to buy big plants because little ones take FOREVER and they still might not make it because of too much water or too little water…ugh *eye roll*…see I have no patience. That said, I have grown a few little plants that are bigger now (which makes me happy).
In this instant gratification culture, how much more rewarding it is to FINALLY see new buds and inches of growth!  Good things DO come to those who wait!  And let's not forget the buds of hope that patience develops!
Patience helps keep hope alive. That my plant won't die. For you it might be believing the right job will come along, a relationship will be improved, or the right relationship will be found, believing a situation will turn around….  Jeremiah 29:11 is a perfect example of the good things that come to those who wait:
"For I know the plans I have for you, declares the LORD, plans to prosper you
and not to harm you, plans to give you hope and a future."
How can we NOT have hope in tomorrow, in our jobs, relationships, children, plants….
Think about the greatest sign of hope coming-Easter! The fulfillment of God's promise to save the world from our sins, to give us a home in Heaven, to give us a relationship with our Creator and Father. What a beautiful thing for which to wait!
Blog by Rebekah Wright