"We spend January 1st walking through our lives, room by room, drawing up a list of work to be done, cracks to be patched. Maybe this year, to balance the list, we ought to walk through the rooms of our lives … not looking for flaws but for potential."
-Ellen Goodman, journalist
As one year ends and another begins, we need Goodman's thought on grace and hope. Grace-nobody's perfect so there will always be room for potential but don't despair-there's hope for the future.
How ever last year went and in spite of what's already been projected upon this year, keep moving forward. The Apostle Paul was a forward momentum guy:
Philippians 3:14, "I press toward the mark for the prize of the high calling of God in Christ Jesus."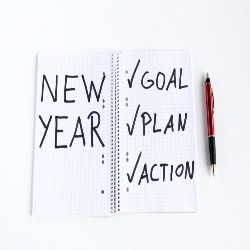 Don't be overwhelmed by your goals, just press on one step at a time. Think big, but act small and before you know it you'll accomplish it!
And please don't forget Jesus. Many resolutions fail because they are based off of grit and willpower, but we believe Jesus' mercy is new every morning and his grace endures from year to year.
So, press on in the Lord's strength and know that Jesus in working in you and through you to accomplish His will in your life for the new year!
Blog by Rebekah Wright