What is Truth?
It keeps changing today.  It's confusing!  The world does not know the truth because they don't know God.  However, anyone who follows God, knows the truth and upholds it to the world!
One thing the Easter tomb silences-is the question-what is truth?
Roman Governor Pilot asked Jesus this at His trial before His death.  Jesus answers He is the truth.  And Pilot sarcastically responds, what is truth.
This debate is nothing new.
People do not want to accept truth, so instead they deny it, try to disprove it, argue it , or create their own stand of truth.  Yet, there remains only one truth.
What is Truth-whatever is consistent with the glory, character, and nature of God.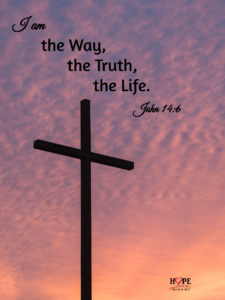 Who is Truth-God …"I am the Way, the Truth, and the Light" (John 14:6)
Let's take a look at a short list of what Truth is and isn't:
*Truth is not
Whatever works.

 

(John 14:6)
Verified by years of believing something to be true.

 

(Mark 7:13)
What's publicly known and agreed upon. (2 Timothy 3:14 , Colossians 2:8)
*Truth is
Absolute because God is absolute.

 

(John 14:6)
Transcends time, culture and empires.

 

(Colossians 2:8, Genesis 2:18-25, Romans 1:25-27)
Inconsiderate of man's opinions.

 

(Isaiah 46:9-10)
Offensive to sin.

 

(Romans 6:23)
Jesus came to say there is one Truth for all things, one way to Heaven and one way, God's way, to live life.  As our world gets more lost in lies, the clarity of the Truth is needed even more.  Unfortunately, Pilate rejected truth and in the end committed suicide.  Not so unlike today, where our culture is suffering because of their rejection of the Truth.  But thank God for the hope we have in Him!  When we follow God's way, it leads to peace, happiness, and ultimately Heaven! 
Happy Resurrection! Believe Truth, Live Hope and Share the Way!
By Rebekah
*Truth list provided by Pastor Chris Starr of Mt Zion Baptist Church in Brogue, Pennsylvania.